Year End Newsletter 12/3/18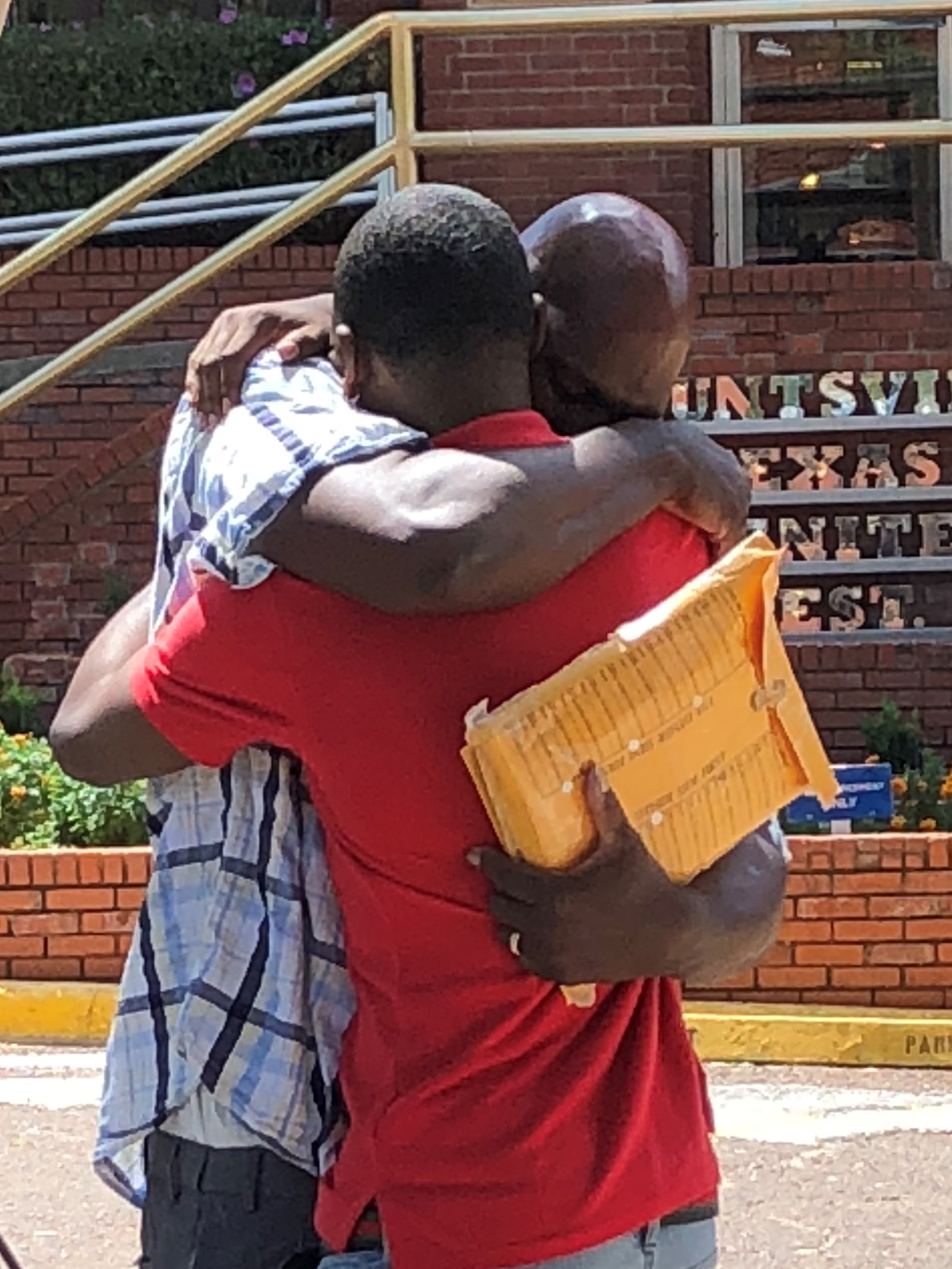 12/3/18 - One of our favorite things at the Innocence Project of Texas is reuniting families with their loved ones for the holidays - holidays that for decades have been spent apart.
Such is the case for Ed Ates family, after our Deputy Director Allison Clayton worked to get Ed released this past September on a wrongful conviction. Ed's wife Kim said just last month, "Thank you for the best Thanksgiving in 20 years."
Ed, born and raised in Chapel Hill, east of Tyler, was 30 years old when he was sent to prison for life. At that time, he was taken from his pregnant wife and their 2-year-old little girl. Ed is now 50 years old. He missed his children's childhoods.
Since IPTX took on Ed's case, we've discovered several indicators from the crime scene that we believe to be incongruent with the State's theory of the case. Items have been submitted for DNA testing and we are hoping for a full exoneration of Ed. For now, he is able to be with his wife Kim, daughter Kyra.
Exoneration vs. Expungement
Besides working to get wrongly convicted individuals released from prison, the process of truly clearing names can take years. But at the Innocence Project we don't give up until our clients get just that – their names cleared, so they can get a job, vote, and visit family out of the country. Today, we were thrilled to have the final hurdle cleared for the "San Antonio Four": their expunction papers provided to them at the Bexar County Courthouse – the same courtroom they were convicted in 20 years ago.
These innocent women were accused (and later exonerated) of sexual assault. Two years after their exonerations, the convictions were formally expunged. For over five years as the lead attorney on this case, I have made sure IPTX did everything possible for these women—from the very beginning to the very end.
And just two weeks ago, Allison and our Innocence Clinic students at Texas Tech School of Law, celebrated the exoneration of Jesse Griffith. Over 20 years ago, Jesse was wrongly convicted of felony-grade theft. IPTX and the Clinic students investigated the case and litigated it until they secured an exoneration. But they didn't stop there. This past month, in late November, they obtained a complete expunction for Jesse. "My conviction was wrong, and it wreaked havoc on my life, but now that's all behind me. Now, I can finally move on," said Jesse.
Allison explains the importance of this final step: "An exoneration takes away the conviction itself; the expunction takes away all other records of it. An exoneration is like the surgery to correct the main problem, but you still have scars from it; the expunction gets rid of the scars."
Department of Justice – Harris County D.A. office joint project
To start the new year, we are looking forward to a new collaboration with the Harris County's D.A.'s office, funded by a large grant provided by the Office of Justice Programs within the Department of Justice*. We are going to be reopening a number of questionable cases and incurring the expense of running many new DNA tests. This case selection process will be arduous but incredibly worthwhile for the many individuals currently incarcerated in the Houston area—individuals who may be proven innocent and set free by untested DNA evidence in their cases.
We are looking to you now to help further our mission as we are excited to share that we have brought on a new part-time staff member, Waco-based attorney Jessi Freud. You may have heard of Jessi through the national coverage provided to one of her most recent cases: Pamela Colloff's excellent and thorough NY Times series [May/June 2018] on Joe Bryan. This case, centered around a Texas school principal's supposed murder of his wife in 1985, was co counseled by Innocence Project of Texas board member Walter Reaves.
Jesse is an excellent criminal defense attorney and will be assisting us with this specific grant, but we'd love to have her spend more hours helping us with other cases that need her expert attention. We hope that this season, you will consider a generous donation so that we may bring more families not just home for the holidays, but home for good.
There is a national average of $250,000 - $350,000 for Innocence Project case costs, from start to expunction. At the Innocence Project of Texas, we are pleased to have a lower average, but these cases cost enormous amounts of time in order to investigate and gather what is needed for evidentiary hearings. Your end-of-the-year donation is much appreciated and much needed so that our imperfect justice system can be made more just for more people who deserve to be with their families again.
Thank you for keeping our work in mind and in your generous spirit this holiday season.
Mike Ware, Executive Director
PS: We are grateful so many dozens of individuals this past year have shared their own fundraising appeal for us on Facebook. Will you help share our mission of providing free, first-class legal services to innocent prisoners with your friends and family?
* This project (grant mentioned above) was supported by Grant No. 2018-FA-BX-0006 awarded by the Bureau of Justice Assistance. The Bureau of Justice Assistance is a component of the Department of Justice's Office of Justice Programs, which also includes the Bureau of Justice Statistics, the National institute of Justice, the Office of Juvenile Justice and Delinquency Prevention, the Office for Victims of Crime, and the SMART Office.